7 March 2018
 NHS leaders in South Tyneside and Sunderland appeal to joint health overview and scrutiny committee
Letter says committee is considering referring acute service reconfiguration decisions to Jeremy Hunt
This would delay a decision by up to nine months and risks safety in a "crisis situation"
Health leaders in the North East have warned councillors of the "significant risk" to protecting patient safety if they seek to block a reconfiguration of "vulnerable" acute services.
The leaders of South Tyneside Clinical Commissioning Group, Sunderland CCG, City Hospitals Sunderland Foundation Trust and South Tyneside FT wrote to the region's joint health oversight and scrutiny committee.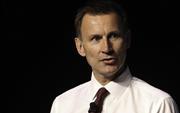 The letter, dated 28 February, said they were aware the committee for Sunderland City Council and South Tyneside Council is considering referring the plans to the health and social care secretary to ask him to overturn the reconfiguration decision.
It said a referral could delay implementation of the decisions by 6-9 months while the Independent Reconfiguration Panel carries out a review.
The letter said this could increase risk in a "crisis situation" where the trusts are forced to make changes to guarantee patient safety.
It said: "We feel strongly that in the interests of patient safety we are not able to delay changes to these fragile services any longer, and these changes must be done in a considered and planned manner with staff, patients and partners.
"We feel a delay will be a significant risk in the foundation trusts having to make changes in a crisis situation… in order to protect patient safety.
"Again, to be clear what we mean by risks to patient safety, is increasing the potential risk of death, serious harm or a lifelong health condition or disability."
The letter follows the decision of the CCGs to shift several hospital based services from South Tyneside District Hospital to Sunderland Royal Hospital. It was signed by David Hambleton from South Tyneside CCG, David Gallagher from Sunderland CCG and Ken Bremner, the chief executive of both trusts.
The CCGs agreed at a joint meeting last month to centralise hospital based stroke, maternity, gynaecology and paediatric services in Sunderland, following a consultation into the future of the services.
The overhaul aims to tackle recruitment challenges, inability to hit clinical standards, difficulty meeting national guidelines and reduce the bill for locum doctors.
The letter said one of the reasons a council can refer a decision to the health and social care secretary is if it considers the proposals would not be in the interests of the health service in the area.
The letter said because the services are "vulnerable" it would not be in the interests of the health services to delay the reconfiguration.
It added: "Taking all this further information into account, as a group of NHS partners we are united in the opinion that a delay to implementation would not be in the best interests of the local health services as per the third grounds cited in the [secretary of state] regulations and would urge the [committee] to consider carefully the serious implications for both patients and staff."
The committee was due to meet on Thursday but this was postponed due to the weather with no new date confirmed.
Source
Letter from the NHS to joint health oversight and scrutiny committee